[090629]
It's done.
541 puts an end to something like five years of work. I've got mixed feelings about the ending, but to preclude any spoilers, I won't say anything. The story will have been completely posted by the end of the year, as scheduled. I will most likely do a few double updates if necessary. But I mean… what the fuck am I going to do now?
I could go on about my plans for the next story arc (is that supposed to be two words?), but I think I'll talk about some computer stuff for this entry.
I'm writing this entry from a week old Windows 7 RC installation loaded onto a Latitude D610 that I acquired in my travels in the land of eBay. The machine has a Pentium M 750 (1.86GHz, 2MB L2, 533MHz FSB – I think it's kinda interesting that these Dothan Pentium Ms actually have just as much L2 cache as my E2140…), 1GB of memory, and an 80GB, 5400RPM HDD; the Windows 7 RC is build 7100, released on May 5th of this year.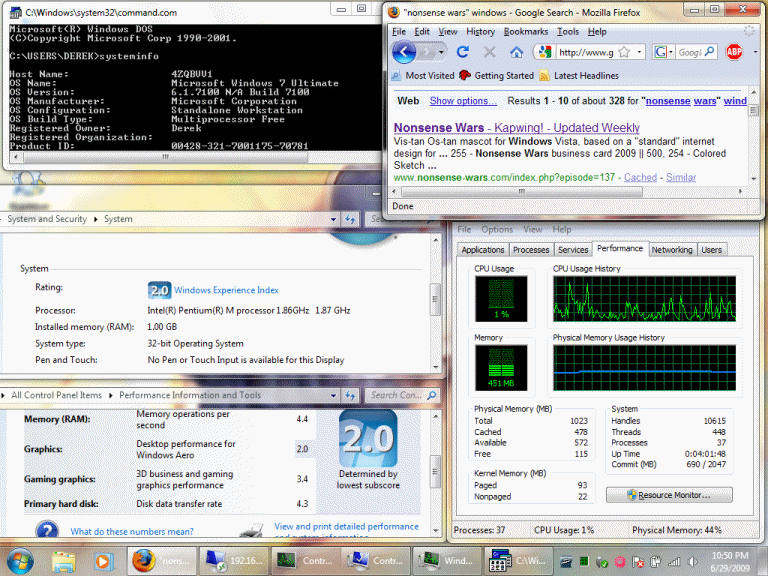 I actually took build 6801 (and then very briefly, build 7000) for a spin late last year on one of the many D600s I've handled in the past year, but I don't think I ever wrote about my experience. The one thing that stands out from my original trials was that the Windows 7 installer doesn't run on 128MB of memory. Just FYI. I think 512MB is supposed to be the minimum…
I got my RC key straight from Microsoft using my Hotmail (or as MS wants to say, my Windows Live login) login, but I ended up downloading the actual ISO via torrent just because I didn't want to deal with the Microsoft download manager. The image was just under 3GB and I put it on a DVDRW using ImgBUrn. The installation on the D610 was a breeze. This has already been done in Vista, but the Windows 7 installer only asks u for input at the very start of the installation, so you can just set it and let it go do it's thing. The Windows XP installer asks u for like three prompts right in the middle of the install, which can be a pain in the ass. I set off the installer before I napped, and it was done when I woke up, about thirty minutes later.
I'm fairly certain (though my memory is a bit hazy) that Windows 7 took care of all of my drivers save for those of my audio device and modem (but who the fuck uses a modem these days? Why the fuck does my E6400 even come with one?). Windows 7 also did not by default install a WDDM driver for my video device, the ATI mobility Radeon X300, which allows you to turn on fancy shit like Aero. One of the reasons I tried this on the D610 was because this laptop is just about the oldest thing on which I'll be able to run 7 with all the bells and whistles (… like aero); very few video solutions older than the radeon X-whatever series will offer hardware support for the feature. Everyone also knows that 8 will run great on the latest and greatest computers, so I'm really trying to look at baseline performance here.
I jumped through a couple hoops trying to figure out the WDDM mess and finally solved it by downloading an update from Windows Update. Honestly the first time I've ever used Windows Update. Somewhat surprised it worked o_O. I'd also like to note that my audio and modem drivers were the Windows XP drivers straight off Dell's site. Just FYI.
With all that boring shit taken care of, I went along and tried running some utilities and applications. Between OpenOffice, Firefox, shit like HWMonitor, CPUZ, RMClock, my anime, my music, thumbdrives and whatever, the one other hoop I've so far had to jump through would be in getting mkv files to play with their subtitles. It was a simple switch in my MPC settings, but still annoying and an associate of mine had to tell me how to fix it.
SO. Cool shit in Win7?
My favorite thing is actually a GUI thing, believe it or not. There's a lot of times when I want to open two or more things like right next to each other on a screen (like a webpage and a word doc, etc), and I hafta spend a couple seconds resizing all the shit such that they fit together. Well, in Win7 you get to drag your window past the edge of the screen and it'll resize the window for you automatically! If you drag a window past either side, it'll resize the window to fill half the screen; if you drag a window past the top, it'll fullscreen the window! Why the fuck didn't anyone think of this before?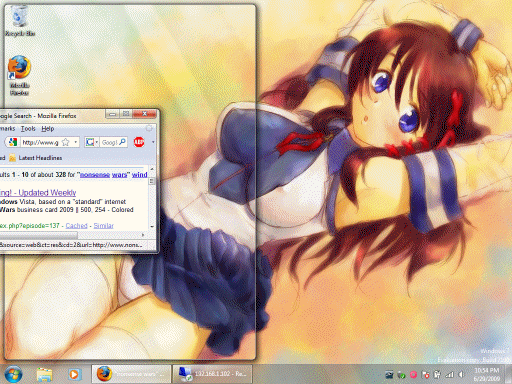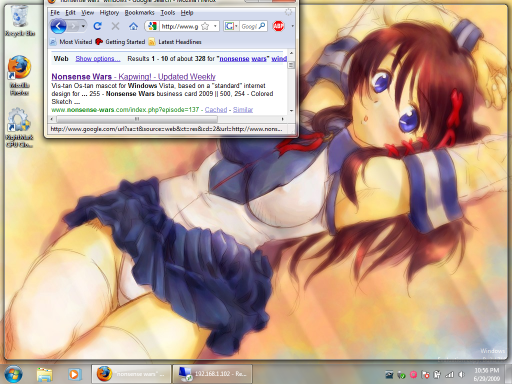 Right clicking on the taskbar also gives you a couple more screen sorting options. You can cascade your windows, show them all side by side, or show them stacked (resized accordingly!). Not quite as helpful as the dragging mess, but still clever. The show desktop button is a little bar on the right side of the taskbar and hovering your mouse over it previews the desktop. This one's kinda useless, I daresay…
Ok, this dragged a bit longer than I'd have liked. Will continue next time.