[090920]
Hmm… there are about 14 weeks left of 2009 and a few more than 14 comic pages left to post… what to do what to do… Not to mention I really need to start drawing again. Anything really will suffice; but the backlog, once 30+ strong, is dwindling. If I can't replenish it, the story might not actually finish this year (for fear of me not having any updates down in February or March). It doesn't help that these tablet comics take forever to do.
So this update marks the first year for the E6400. I originally bought an E6400 (or rather, posted about it) in d203, which was dated for 08/09/20 (exactly a year ago), so here comes the one-year followup.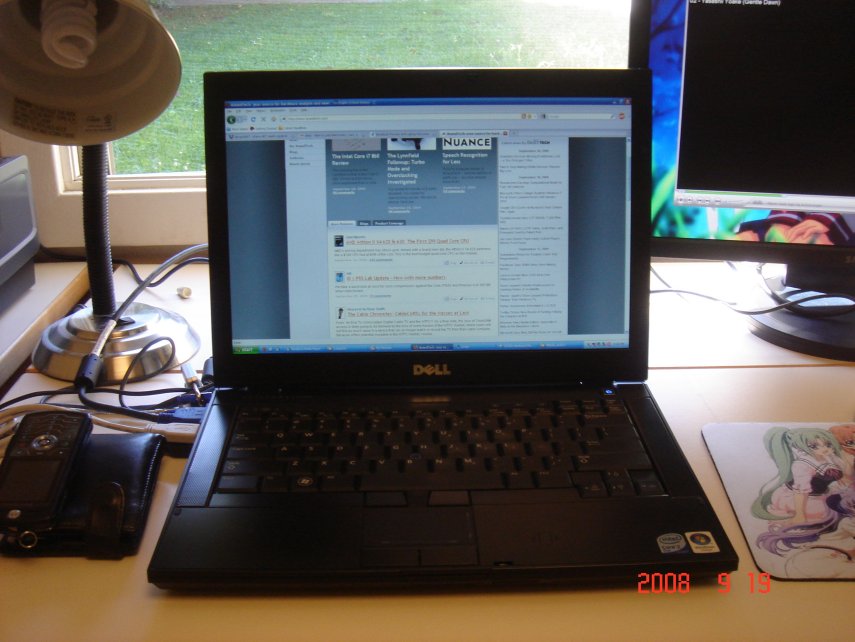 I should start by describing what has ultimately become of my usage patterns. Back in the day, when I only had one laptop, it mostly stayed at home. High school doesn't really encourage the use of laptops, and other than that, I'm not going anywhere. Laptops are just convenient cuz I can take 'em with me on my family's yearly jaunts to Hong Kong and whatever.
So somehow, when I bought D830, I bought it with this kind of usage pattern in mind. I could get a larger, more powerful laptop that would still fit my high school usage pattern perfectly. Of course, in retrospect, I didn't really need a much more powerful machine – it was just my luck that my 500m was a generation too old to smoothly play 720p video – but I didn't know it at the time. I thought the bigger computer with the faster processor and the discrete GPU would be a good idea.
Well, it was. And it wasn't. Had I stuck with my high school usage pattern I don't think I would have sold the D830. But I already had to switch my backpack – to something I didn't really like – in order to carry the D830, then I started taking the machine to class, discovered the shitty, puny-ass auditorium desks, the pain of unplugging a bunch of peripherals going to every class, etcetera, etcetera, and it got somewhat unpleasant.
The 500m saw use on the go for another six months as the D830 sat in my room, occasionally venturing out because the 500m just doesn't hold much water with its four-year old battery. I got my TC4200 and it became the only thing I used on the go, but my experience with less-than portability of the D830 still left a bad taste in my mouth. Not to mention it was relatively hot and noisy, especially compared to the TC4200 (which is still the quietest machine I have since the E6400 spins up its fans more often).
So I got my E6400.
Anyway, this is what it's come down to: the E6400 stays in my dorm like a desktop replacement, and the TC4200 gets taken out. The D830 would have done the job perfectly well, but the E6400 does it better. On the other hand, if I had the D830 with this usage in mind in the first place, I don't think I would have switched to the E6400 quite so fast. I guess it's a little wishy washy, but I have no regrets this time around.
That's the consensus there. I have no regrets this time around. The E6400 could have been a bit lighter, could have a better display, could have a not off-centered latch, could have all-aluminum or alloy construction, could have a slightly less obnoxious fan controller could have a ton of small improvements, but I'm not going to go pick up a T400s or something anytime soon. I'd venture I'll still have this machine when the F-Series comes around.
Anyway, topic two.
The observant ones might notice that I've moved into a dorm again, as that table certainly isn't the one that I use in my room at home. I've got my Higurashi mousepad, a ton of peripherals connected, my desklamp but wait – what's that on the right?
That's a Samsung SyncMaster 204B. It's an old-ish (3 yrs old) 20″ UXGA (1600 x 1200) LCD that goes for about 100-150 on ebay, and I'm now using it as a secondary display, partially at the urges of the great Generalachoo. I was originally planning on getting another Sony HS95P to match the one in my room, but I changed my mind (at least for now). The HS95P is hard to find, expensive given it's (relatively) small SXGA resolution, and even harder to find in black, which is what I need. Also, the Samsung was free.
Yeah, that's right. My good friend Mr. Tsui came over to play a certain children's card game and we decided to take a peek at my neighbor's garage sale. Among the odds and ends that I think typical of garage sales (books, clothing, golf clubs, etc), there were these three monitors, the SyncMaster and two smaller Sony displays.
I was taking a look at them, and was going to ask about the pricing, when my neighbor mentioned that he'd give 'em up for free, partially because he didn't have the cables for the displays. This was kind of like the "what!?" moment I had when I bought my original Samsung SLC SSD. Well, that made up my mind, pretty quick; he assured me it was working, and I took it off his hands. We went back to my place and fired the thing up.
Quite frankly, it's a very nice display. It's got a really high resolution for a 20″ display (as I mentioned, my HS95P has a 19″ screen and pushes 1.3 million pixels. This 20″ display pushes nearly 50% more; it's got 1.9 million pixels. My dad's twin Dell 2008WFPs are 22″ on the diagonal and have 1.7 million pixels each. The color range is also superior to that of my E6400's display.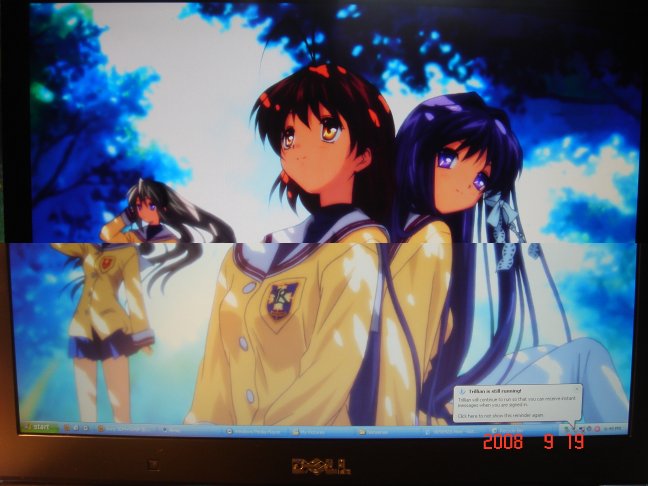 A bit hard to tell in the picture, but the top half is Samsung and the bottom half is Dell. It's not the best picture, but you can see that Dell's a little more faded; it's a bit more noticeable if you're standing directly in front of the two. Nonetheless, the best LCD display I've ever used is the one on my TC4200, which might be a bit dim, but has great viewing angles on ALL sides and a fairly good color gamma. I think that's the word I should be using. Gamma, not range.
Ok, that's it for now.